---
Transformation and growth is challenging
Oppsteg makes it manageable
---
Brave companies perform forefront projects
Boliden has produced base metals such as zinc, copper, lead, nickel, gold and silver for more than 90 years from operations in Sweden, Finland, Norway and Ireland. The company has taken a leading position in the industry of sustainable metal production which is essential in the transition to a sustainable future.
HYBRIT (Hydrogen Breakthrough Ironmaking Technology) is a joint effort by LKAB, SSAB and Vattenfall that represents a paradigm shift for steel production by reducing CO2 emissions by more than 98%. This is achieved by replacing coal-fired blast furnaces with the HYBRIT technology for hydrogen-based direct reduction of iron ore. The technology is developed in a pilot plant in Luleå, Sweden.
Returkraft is a waste incineration plant that was established in Kristiansand in 2010. The plant recovers energy from the residual waste from households and companies in the region. Returkraft produces 95 GWh electricity and 250 GWh of district heating from the 130 000 tonnes of waste that is incinerated here annually. This is an important contribution to the circular economy – harvesting 63% of the energy in waste that would otherwise be disposed in landfills.
Gasnor is Norway's largest supplier of natural gas for shipping and industry, established in 1989. Since the start, Gasnor has challenged traditional fuels for shipping and industry with cleaner and more environmentally friendly solutions. Natural gas is much cleaner than oil-based fuels and plays a significant role in short-term reduction of the huge emissions from shipping as the fuel supply is available and the technology is mature. However, to reach long-term emission goals we need to develop value chains for zero-emission fuels. Gasnor has already taken the first step in this direction by establishing biogas supply to the industry.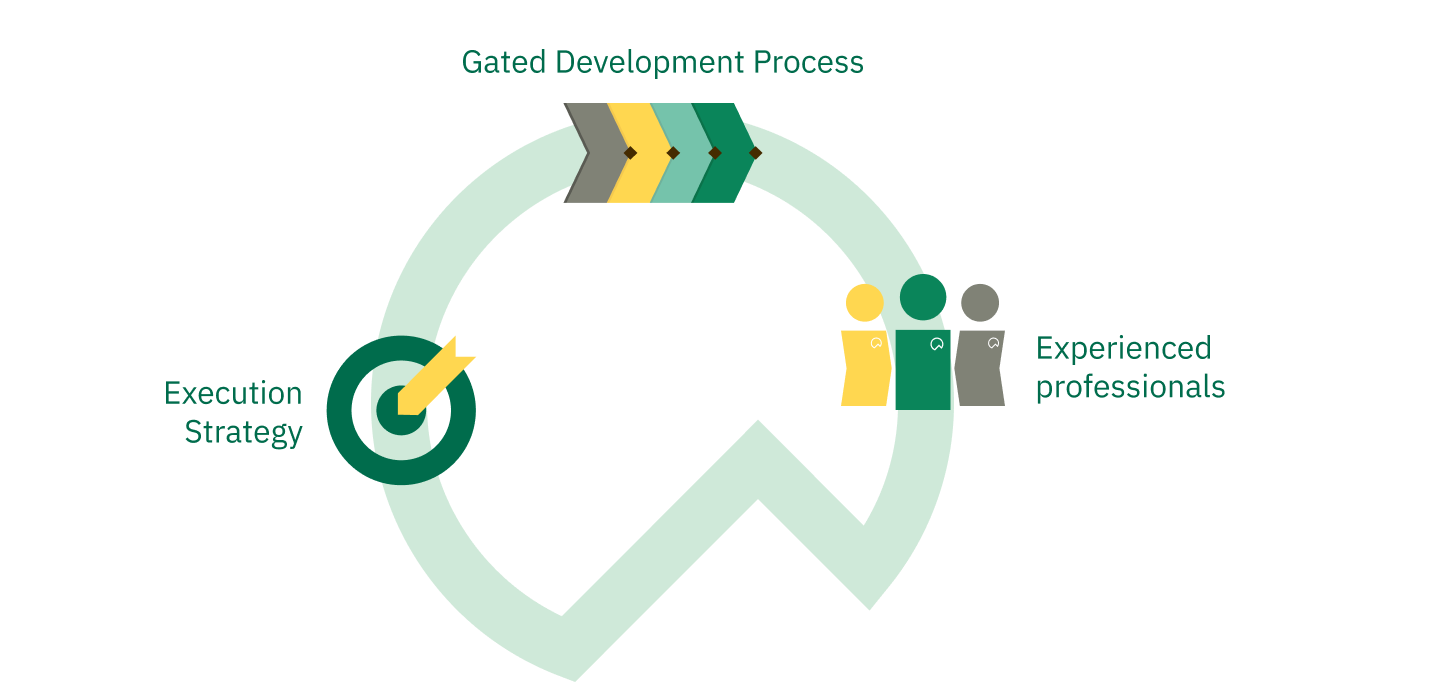 From the early stages of Project Development, it is imperative to develop appropriate execution strategy to align the Project Team's efforts in the same strategic direction, reduce risk to acceptable levels and increase predictability.
For the Company, the Project's value also depends on how well it supports the strategic direction defined by the board and top management, and that expectations from stakeholders are understood and fulfilled.
Gated Development Process
The stage-gate model ensures efficient use of the Company's resources on predictable and competitive projects. Risk is managed through stages with well defined output and a clear articulation of the decision to be made at each gate. Work processes staffed by qualified professionals and supported by digital tools create efficiency.
Experienced Professionals
Project processes demands professionals who have the capability to execute the projects effectively.
Oppsteg is consistently developing Project Management Capability by attracting and training project professionals with experience, skills and personal qualities that complement each other.
Genuinely motivated to make a difference
---
What makes Oppsteg a preferred partner
Roles and Responsibilities
People
Strategists
Managers
Discipline specialists
Approach to Projects
Approach
Industry best practice
Extensive project experience
Digital tools & processes
Values and Principles
Care
Commitment to project results
Team spirit
For a sustainable future
…in the end it all comes down to the people
---